It's the name of the street crossing the vineyard. This wine is exclusively made with grapes coming from young vineyards (new vineyard) and reflects the pleasantness and character of its own terroir. It is aged and refined in small oak containers and barriques. It is a well-balanced and structured wine able to evolve and express itself for a decade.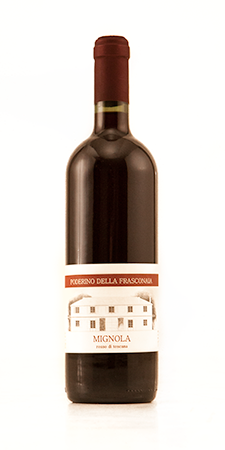 SPECIFICATIONS 
Mignola
Grape blend: 85% Sangiovese, 15% Colorino e Cannaiolo
Wine-growing
Soil: Medium mixture of clayey silt
Exposure: South – West
Breeding system: Cordon spur
Plant density: 4700 grapevines / hectar
Yield per hectar: 4500 kg grapes
Production techniques
Vinification: After selection and harvest by hand, grapes are aged in stainless-steel containers and no selected yeasts are added. Caps are only punched down manually in order to make the extraction of the skins' components easier. Fermentation lasts approximately 15/20 days; malo-laptic fermentation is then completed in small oak containers. Ageing and refining take place in 2º/3º passage French oak barriques. Oxygenation and clearing decantings are made on a regular basis. Contact with wood for at least 20 months.