Made with grapes from the "historic" vineyards ("casetta" and "lepre") this wine reflects the quality of our terroir; it offers, right from the start, the typical and genuine pleasantness of Tuscan quality with a good content of tannin that enables it to evolve well in the following 5/7 years.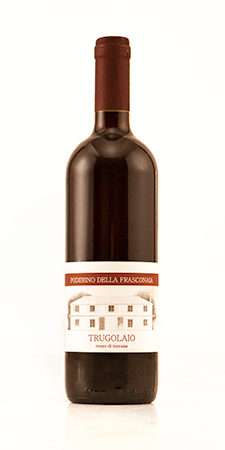 SPECIFICATIONS
Trugolaio
Grape blend: 80% Sangiovese, 10% Colorino e 10% Black Cannaiolo
Wine-growing
Soil: Medium mixture of clayey silt
Exposure: South – West
Breeding system: Tuscan arch
Plant density: 4700 grapevines / hectar
Yield per hectar: 4500 kg grapes
Production techniques
Vinification: After selection and harvest by hand, grapes are aged in stainless-steel containers and no selected yeasts are added. Caps are only punched down manually in order to make the extraction of the skins' components easier. Alcoholic fermentation lasts about 15/20 days; malo-laptic fermentation is then completed in stainless-steel containers. The wine is then put into oak barrels for ageing and refining. Oxygenation and clearing decantings are made on a regular basis. Contact with wood for at least 20 months.