It is obtained by a wise combination of grapes produced from young vineyards (new vineyard) and grapes from a more typical and local vineyard (spina); Some Cabernet Sauvignon, obtained from the grapes of the new vineyard, is then added. Fermentation and ageing in wooden containers; It is a wine which has the classic Chianti characteristics, it is intense in colour and rich in flavour; it can be aged for decades.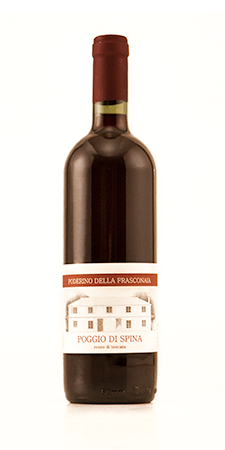 SPECIFICATIONS
Poggio di Spina
Grape blend: 55% Sangiovese, 25% Cabernet Sauvignon, 10% Colorino, 10% Cannaiolo
Wine-growing
Soil: Medium mixture of clayey silt
Exposure: South
Breeding system: Cordon spur
Plant density: 4700 grapevines / hectar
Yield per hectar: 4500 kg grapes
Production techniques
Vinification: After selection and harvest by hand, grapes are aged separately in small oak containers, in order to enhance the extraction of the substances contained in the skins. Fermentation takes place without selected yeasts being added. Contact with skins takes place according to varieties and lasts approximately 15 days during which caps are punched down only by hand. Malo-laptic fermentation and wine ageing take place in third passage French oak barriques and last approximately 20 months during which oxygenation and clearing decantings take place.